Theft from Honesty Box
An honesty box at the foot of the Nab Scar Footpath, collecting donations for the Sepsis Trust in return for flapjacks for walkers was robbed on the 18th April 2017, leaving only a very small return by the end of the day. One of the only occasions when the box was not overlooked for most of the day. This mean spirited act is in sharp contrast with the generosity of the many walkers who have given so freely since before Christmas, when it started off with mince pies.
If anyone knows anything about this, please email (in confidence) through this website.
_______________________
The Rydal Heritage Board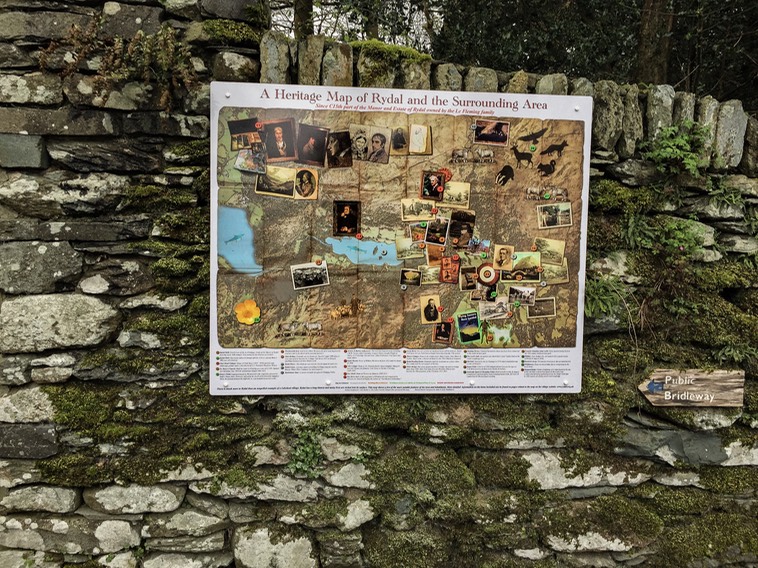 has been placed in the centre of the Village to mark the national parks bid for World Heritage Status. 
This also features on this site with a section of pages providing much detailed information on the heritage of the village.
Follow the link in the Menu bar on the right for the Heritage pages section.
Thanks go to the Ambleside Parish Council for funding the board, and to Pandora Signs of Hawkshead for a superb job of printing and installing the Board.
_______________________
For Information:
Reference Planning Application no:7/2017/5157
Proposal: Replacement rear single storey lean-to extension, replacement bay window extension
Location: Keens Close, Rydal, Ambleside, LA22 9 LT
Details may be seen by following the link below:
http://www.lakedistrict.gov.uk/swiftlg/apas/run/WPHAPPDETAIL.DisplayUrl?theApnID=7/2017/5157&backURL=%3Ca%20href=wphappcriteria.display%3ESearch%20Criteria%3C/a%3E%20%3E%20%3Ca%20href='wphappsearchres.displayResultsURL?ResultID=1377141%26StartIndex=1%26SortOrder=rgndat:desc%26DispResultsAs=wphappsresweek1%26BackURL=%3Ca%20href=wphappcriteria.display%3ESearch%20Criteria%3C/a%3E'%3ESearch%20Results%3C/a%3E

This Planning Application was published on the LDNPA website on Thursday 17th March.
In order for objections to be considered they must be received before April 5th.
The Rydal Conservation Area, the context this application falls within can be seen via this link:
http://www.lakedistrict.gov.uk/planning/conservationareas/rydalca

_______________________
Rydal Hill Closure
Please note that the left side of Rydal Hill, been coned off to prevent parking, and further damage to the road, following the impact of Storm Desmond..
The road is open for church attenders, locals needing access to their properties, and for visitors to those properties, Rydal Hall and Rydal Mount. The road is open as usual for access, deliveries etc.
December 22nd 2015
_________________________
DOGS!
There have been a number of instances of dogs worrying sheep.
Please keep dogs under control at all times, sheep are easily startled, and this can be an irresistable temptation to any dog, with potentially tragic consequences.
________________________