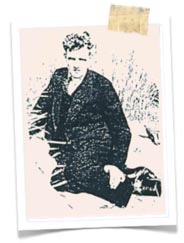 An account given by
Thomas Edgar Gibson (1904 - 1998) 
of  Rydal Village Life from early 1900
Rydal village centred on the Le Flemings of Rydal Hall.
Everything belonged to Rydal Hall, all the houses except the vicarage (now Rydal Holme). Rydal Hall, Rydal Mount, Rydal Mount Cottages, Hart Head Farm and land, Scandale Brow, Coniston Hall, and Skirwith Hall, have all been sold off, some for death duty, some because they were left empty for a dozen years or more and they were too expensive to repair.
The Le Flemings were a very Victorian family and let every one know they were the 'Lord of the Manor', the villagers had to bow and scrape. I suppose their income came from the rents from farms. land and houses.
The family consisted of Mr and Mrs Le Fleming, Michael, Richard, Joan and Diana. Michael went to Oxford University, he was cox on the boat race which won. Dick went to a private school, the two girls were always taught by a governess.
They didn't take business very seriously, and stayed around Rydal for years, then Michael went to South Africa fruit farming and came back after a few years (never heard of him making a fortune), then Michael and Dick went to California - something to do with fruit farming but that didn't last long, then Dick went to London as a car salesman for Shrimpton Garage, Victoria. Diana was always keen on poultry and went into poultry farming, in the west country, she never came back to Rydal. Joan always remained on the district.
The Squire was Lord Lieutenant of Westmorland and used to go to Appleby to open the Assizes each session. I do remember when elections were being held in the days before the wireless, meetings were held In all the village halls and were well attended, the Squire used to be supporting speaker to the Tory Candidate, but be was never allowed to speak, he was always booed down, we used to think it was quite entertaining! The Squire was a major in the army, a tall man. over six-foot, he used to walk up to Buxton Jum almost all fine days.
My father went to work for Rydal Estate In 1918 to be head forester; he had four men under him, my brother Arthur (who worked for Rydal Estate for 50 years) Mike O`Brien, Jack Hunter from Grasmere, and myself for two years.
My father was responsible for looking after the turbine and electric dynamo. He never missed a twice-a-day inspection, Sundays and weekdays and very often in winter time, he walked up to the dam at the top of Blrk Hagg, to clear away the leaves from the grid and for many years never got any overtime. I remember my brother was working half way up the mountain side, and as he had no watch, we arranged that I would pull the bell on the bell-tower on the roof, at the appointed time. I tolled the bell and everybody was runnlng everywhere, trying to find the fire - no-one ever knew who tolled the bell!
I remember Jack Hunter dressed up the Squire's army uniform, strutting about the saw mill and the Squire came on the scene and Jack, being very short sighted, didn't see him coming, the Squire couldn't see the joke - Jack got instant dismissal!
When the Queen of Holland rented Rydal Hall for one summer around 1924, Rydal became a busy place with all the staff, police and detectives, who had to be found accommodation near at hand, the 'security' had so little to do in those days, that they were bored and used to go rabbiting. One of the Royal party became caught up in a snare and brought down (poachers were blamed!). I dld meet Juliana one day on Dollywaggon Pike, she was riding a pony and had been on Hellvellyn with her retinue.
Rydal Hall was heated by electric heaters and big log fires, the wood was cut by my father on the power saw, driven by the turbine and surplus wood was sold and carted by horse and cart to Ambleslde or the villages.
The Hall had a staff of about ten to a dozen, when they could keep them, for being a lonely place and not known as a 'happy house', staff were coming and going constantly. My brother and I used to wait at the bottom of Rydal Hall hill, for the arrival of the stage coach, with its four horses, the only means of travel from the station (Windermere) to Grasmere, we had a barrow for the luggage, probably next week wheeling it down again. One time when they were short-staffed, I had to act as pageboy - I did it for only one month!
Miss Joan had a pony and trap and used to drive Mrs Le Fleming about. Quite a number of summers they used to rent a house In Bath, when motor cars became more popular they bought a Chevrolet touring car, then a big Wolsey Landulet, a fine car in the day. Dick used to ride around on a big twin cylinder belt driven Zenith. I remember Michaels 21st birthday - the villagers were invited to the party in a marquee - they had a 'knees-up in the evening.
Meat was kept In a big meat safe, which was built on high stone steps In the woods, they had an Ice- house which they used for freezing meats, the boys used to go duck shooting on the lake. The family often used to go picnicking on the lake, they went on the small island which had a lovely summer- house and this was lined witn fir cones in very nice patterns.
Hart Head Farm was the Home Farm. It supplied produce to the Hall. I remember they grew some corn, potatoes, turnips. They employed four farm servants, they kept three working horses, about 20 milking cows and a couple of thousand sheep. The farm supplied milk to the village, they carried it round in big cans on foot to each house, using 1 pint and 1/2 pint measures.
The Hall gardens had a big walled garden keeping five gardeners employed, with four big greenhouses, growing peaches, grapes, tomatoes and fruit trees around the walls. Mr. Mould was head gardener with three sons and George Whittam under gardener.
Keens Close & Hart Head Cottage, Two semi-detached cottages - Mary Yates lived in one, she was a tall lady about 6' tall, she was an artist and an exhibitor at the Royal Academy. She used to swim in Rydal Water, winter and summer and a great walker with her dogs. Miss Locket was her companion. Next door was more or less a holiday home, then after the flrst world war Major Porter lived there. He was estate agent for the Le Flemings.
Hart Head Farm was run by Matthew Thompson. He had a school-age family, Joe, Jim and Annie. Ernie Bainbridge was brought up with them, and there were two farm men, John Muncaster and Percy Youdale and a farm girl, Emma Youdale.
Rydal Mount was tenanted by Fisher Wordsworth and they had three indoor staff, John Cox was the gardener. After Fisher died, Mr & Mrs Hulbert rented the Mount. They had three staff and two gardeners. Mr & Mrs Hulbert had just been married and they used to ride new Raleigh bikes.
Rydal Mount Cottages - one was the cottage used by Rydal Mount's gardener Johnny Cox; Edgar Walker and his family George, Jack, Bill, Mildred, Margaret and Ken lived in the middle one. Mary Garnett and her brother lived In the bottom cottage. Mary took In washing and her brother Billy had an impediment in his speech and was lame. I don't think he was employable but the Squire allowed him to take visitors up to the high water falls acting as guide for tips.
Hall Bank Cottage first rented by Mr & Mrs Vey. Then Johnny Joiner who worked in Thompson's Wine Merchants, Ambleside. Attached to the cottages was Rydal Estate Office. Until the end of the first world war, Mr. Dixon was the estate agent, then soon after the war finished Mr. Porter took over as Agent. After Johnny Joiner left Rydal, Miss Maria Lonsdale took over the house.
Undermount was rented by Canon Rawnsley and his wife. He was of the first National Trust members. He left to live at Allen Bank In Grasmere and Mr. Porter took over the house.
Church Cottage was rented by two Miss Hucks. Mary was a dressmaker and Elizabeth looked after visitors who rented rooms.
No. 1 Rydal Cottage - Fred Bell, his wife and family rented this house. Annie, Clara and son (Ronald killed in the 1939 war) . Fred was a hand-made shoe maker; farmers boots his specialist work, he had a shop In Grasmere, then bad a shed in his garden where he worked. They had a lodger, Jackie Huddlestone; he worked as a roadman, his length was between Penny Rock and Lowwood.
Frank Jenklnson lived next door with his wife and son Billy. Frank was a builder who worked for Mr. Tom Wilson, Builders Grasmere. We used to see Frank on a Saturday night on his bike after visiting the pub In Ambleside, very unsteady, singing and shouting, then he was Church Warden on Sunday.
Glen Rothay was empty for many years. We used it as a wet day play area; we had a way of entry, then It was rented to Mr. Beavan and his sister as a hotel, they kept a staff of three and a gardener (the kitchen garden was by the river), also they had two coach houses, one each end of a forty foot greenhouse with entrances on to the road. When the road was widened, they all disappeared. On the hotel side was a walk, up some steps which ended at a summer house with a commanding view of the lake. The summer house was decorated with fir cones, of all sorts of pattens, also the floor was all pattered with oval cobbles. They had a model T Ford, sometimes he used to ask me to bring him an ounce of Murray Mixture (smoking). I remember in 1922 Mr. Bell, an American staying ln the hotel (he came for several years) - I used to go with him to the 9-hole golf course on Loughrigg above Ambleside, to caddie for him, he wanted to adopt me and take me back to New York - Mother wasn't having any of that!
Glen Rothay Lodge Where the Gibson family lived with three sons, Arthur, Edgar (Tom) and Raymond and two daughters, Florence and Mary. When I came to Rydal I worked at Hart Head Farm for six months, then transferred to work under my father. My term of employment ended one day when Arthur and I were cleaning Rydal Hall Hill after the leaves had fallen. The leaves were wet, so they would compact better; we had a big barrow with side boards and we had to wheel the barrow up the hill, down the back dive to empty them on the rover. This particular day, I set down the barrow for a rest and the Squire came out of a doorway and asked if I had nothing better to do and ended with me getting a month's notice. When I went to the office for my cards at the month end, the Agent knew nothing about it, but I got myself apprenticed to the shoe trade. Ray worked for a cycle shop, Florrie in a drapers and Mary as a nurse-maid.
The Vicarage, the Revd. Leigh and his wife and son who worked as an engineer for Vickers in Barrow, They didn't mlx with the village a lot; she had the children for Sunday School at her house and sometimes she took the ladies on shopping trips. She had a Rolls Royce and a Sunbeam. By the lakeside in front of the Vicarage, there were two sycamore trees which was rather spoiling his view so he cut them down. Afterwards the Squire went berserk and he had to have them replaced.
Nab Cottage was rented by Mrs Warwick who used it as a guest house and she had a maid Janet. Her Late husband had been a good wrestler who competed at Grasmere Sports.
Mrs Mair lived at what is now called White Moss Hotel and she was a relation of Wordsworth.
Rydal Lodge was a holiday home. It was rented by the Manners family from Manchester. Their
business was Mather and Platts Turbine and Dynamo Makers, of Trafford Park. They used the house for summer holidays, they had a staff of three or four and a chauffeur and ran a green and black Crossley. During the 1939 war it housed the Huyton Hill College School from Liverpool.
Bank Foot was rented by Miss Tyson who was a retired teacher. the estate agent Mr. Dixon lodged with her. She was the village gossip, although she rarely went out, everyone went to see her even the Squire and family went there most days - they got to know the news of everyone.
Lanty Barn (next door) housed a very old stage coach, a Landau in very good condition and was sold to someone In the Blackburn area.
The Hermitage was rented by Miss Hinks, she had a companion who was a parson's daughter called Miss Pullen. Miss Pullen mixed with the village people very well and she played the church organ, organised socials, plays, dances and whist drives and ran the village library.
The Old Cottage was empty for some years, then Mike O'Brien rented it. He was about to be married and made a lot of his own furnlture. He was a sharp-tempered man. As lads we used to visit his workshop and one night he was working a piece of wood and it slipped, one of us started laughing, which didn't suit Mike, he picked up an axe and threw it, it just missed - it stuck In the door! We never visited after that!
Rydal Cottage was the end house nearest Pelter Bridge. It was rented by Miss Harris, a semi- recluse. She had two maids. My sister worked there for a time.
Cote How was rented by Mr. Grundy, a retired man. Mr & Mrs Grundy were very keen fox hunters and followed the Coniston pack regularly. They always had a couple of Lakeland terriers. They were very nice people and had three maids and a gardener.
No. 1 Cote How Cottages - George Chapman lived here with his wife and six children, Harrison, Ethel, Anthony, Annie, Molly and Robin. George was the Huntsman for the Coniston Pack, Anthony succeeded him. In the summer time George worked for Hart Head Farm. He kept some sheep on Loughrigg, rather suspicious we thought, he used to gather them into a temporary pen, son his out, tend his and let the others free - we thought it strange!
No. 2 was rented by Miss Best and Miss Guthrie both maiden ladies.
Steps End - No. 1 was rented by Billy Backhouse, a partner In the Backhouse Builders Ambleside. They had no family. There were quite a lot of tenants in the four houses - Ellery, Barbour, Frost, Nicholson, Walker, Coward, Gibson and Milligan.
Field Foot was owned by a Southport family named Aitchinson who were in business. They used to come quite frequently. They had three maids, a chauffeur and gardener.
Loughrigg Cottage was owned by Mr Tolson, a retired draper who had had a business In Ambleside. He kept two maids.
Stepping Stones was owned by Gordon Wordsworth, a relation of the poets family; he was 6' tall. He owned Dora's Field at the time and tended it very carefully with his gardener Mr. Backhouse. I didn't think it was opened to the public then, but was left to the National Trust. Gordon used to ride a green bicycle, it had a string seat arranged like a hammock. In his hall he had a fime collection of butterflies. He kept two maids.
Next to the Stepping Stones was a barn which was rented to Jimmy Richardson who was a very good craftsman joiner and worked for most of the big houses making furniture.
Loughrigg Holme - Canon Hervey lived there for many years.
Fox Ghyll Cottage was lived in by the gardener of Fox Ghyll, Mr Satterthwaite and his wife and son Bernard and daughter Rennie. Mr. Satterthwaite was cutting off a branch which was hanging over the road and unforunately was sitting on the side he was cutting, he ended up in hospital!
Fox How was owned by the Crossfield family of Crossfield Soaps of Llverpool. They kept a staff of four and a couple of gardeners.
Fox How Farm was rented by Mr. Richardson who farmed the small holding . Jim, the joiner was his son.
Rydal Farm was rented to James Kirkby. It was a big farm and had a herd of sheep and also a big herd of cattle. I remember In the middle of the 1920's his herd contracted Foot and Mouth disease and a gang of men digging an oversize hole to put the cloven hoofed animals and then carting tons and tons of quick lime to burn them.
Scandale Brow was rented by Mrs Blake, a doctors widow. I remember her driving a bull-nosed Morris open car.
In Rydal Hall Lodge lived a man called Jim? and his wife was a teacher at Grasmere and be was a painter and decorator.
Rydal was a very friendly little village, unspoilt and a nice place to live. Lots of people were retired and the working families had to travel to Ambleside or Grasmere to their various trades. Wages were low, probably £1 - £1 .10.0. Prices for goods and groceries were low but were constant year by year. If sugar was 2d a pound this year, it was 2d next year, eggs 1/- a dozen and milk 2d a pint.
Clothes were handed down from older child to the next and a lot of clothes were home made but we were always smart. Food was mostly home grown and home-baked bread. Mother made one dozen loaves at a time with pasties and scones and cakes, cooking by the big black ranges. Coal was 2/- a cwt bag. Lighting was by paraffin oil lamps, baths were by the portable tin baths, hot water heated on a big pan on the fire. Toilets - some houses were the earthen-type, but some even in 1918 had water toilets. Ours was a water-toilet but it was outside.
Washing day was done in an open shed at the back, with a copper boiler heated by wood. A wooden roller mangle, wooden dolly tub, scrubbing board and dolly posser. It took a whole day as did baking days.
A grocery traveller came on Monday morning and took an order, then delivered it later in the afternoon. Everything had to last the week. Fosters In Grasmere and Charlie and Billy Gibson of Ambleside delivered by horse and float.
Clothes and drapery was bought in Ambleside. The Co-op made to measure suits 25/- upwards. My first bike was £3.1 7.6. a travelling draper came once a month for orders, Bargetts of Keswick with George Bainbridge the traveller.
Transport at first was by mail coach between Windermere Station and Grasmere. Billy Ellerey was the Grasmere Coachman. Four-in-hand coaches ran by Riggs of Windermere, and the Salutation Hotel Ambleside ran a tourist day trip to Keswick over Dunmail Raise and over Kirkstone Pass, the comic post card read:
If I was a lover and loved a lass
who lived at the top of Kirkstone Pass
I'd love her and cherish her for ever and ever
but go up to see her, never oh never
Then when motors took over, 20-odd seaters with solid number tyros with hoods that folded down; the fare to Ambleslde from Rydal was 2d. As lads, when it started off, we were able to keep pace with it for quite a time; we used to jump up and grab the hood stays and wedge our feet somewhere and get a free ride to Ambleside. We used to get behind them and get a tow into Ambleside when we were riding our bikes.
School children had to walk to school. No free school buses, no free milk or free meals no canteens and no child allowances and when at school if you misbehaved you were punished by caning or loss of privileges. We all accepted it, we knew if we misbehaved we were punished, It never did us any harm and never had any lasting effect, in fact to me it acted to me as a deterrent We had to carry our sandwiches for the mid-day meal and I never remember having a hot drink. The school I went to had two masters, four mistresses, I thought it a very good school. School-leaving age was 14 and usually went to work next day. The National Health and unemployment pay had just started, there were no free hand-outs, 'fiddling' hadn't been invented, one had to qualify for benefits.
Leisure time - we had to make our own fun. Indoors we had the usual games, Judo, snakes and ladders, draughts, reading, singing hymns. Christmas was always a jolly occasion with religion to me forefront as it was meant to be. Carol singing and church going , parties at home and very much the family togetherness. In the dark winter evenings we would have to make the hearth-rugs - first cut the pieces to size, then prod them into the canvas, making all sorts of patterns. In the summer time we had our various jobs to do, chopping kindling or sawing wood, help with digging the garden. We went to the Reading Room for our social functions and had a committee. Mr. le Fleming, the vicar, Miss Pullin and Mr & Mrs Hulbert. We had social evenings, plays, dancing, whist drives.
Weekly events. All the villagers would attend and when most of the bigger houses had two or three staff, the place was packed to me door. Music was played on the piano which was subscribed by the villagers and bought by Mr. Hulbert. All the old dances were danced: lancers, reels and believe me they were danced with gusto! Concert parties from different villages came to entertain. Radio was not a threat, so the villagers would certainly enjoy these events.
The Reading Room was used by the men and older boys and was heated by a open fire. We had four or five newspapers daily and weekly billiards, darts and dominoes. We played the 3/4 billiard table which had to be man-handled on to the beams when a social function, folk dancing, and Morris dance classes were held.
Radio was just making an appearance and a chap I knew in Ambleside made his own set. I remember going to his house after the pubs closed, (he went to the pub) to hear dance music being played by 2LO listened to on ear-phones. One would listen for a minute and then a faint sound would be heard, then a blast and disappeared for another few minutes, at that time it was a miracle.
Every organisation held an annual ball, hunt ball, fire brigade, ambulance, police, conservative and a host of others. Some charged 2/- with a light refreshment, others 2/6 for a sit-down ham supper.
The usual out-door games we played were spinning tops, made by the blacksmith, marbles, running, fell walking, a lot of time was spent fishing. We would fish half way round the lake, in one evening catching 20 - 30 perch, we then set night lines for pike and would collect two or three pike from 1lb to 6lb the next morning; you had to have a permit from the estate and no one fished without a permit, and I mean nobody.
Walking had not yet become popular. You only saw the odd person at the back of the lake, Things were very restricted In those days, fields, rivers, the lake. was looked upon as the God-given right to the Le Flemings and you were ordered off his property If seen. The front drive on my young days was a private drive used only by the Le Flemings, but after the Le Flemings day the Footpath Association went to court to say it was a recognised footpath and Bill McVity, who worked for his father as a painter gave evidence to say that he knew people who walked the drive . It happened to be him who used to walk up the front drive to Rydal Hall to paint, and on that evidence the drive was made a public footpath.
The Le Flemlngs were never closely involved with the villagers, If they passed a house and saw washing drying on the line, it had to be taken down. As young boys we had to raise our hats but after saying that, we were not pure angels, we had our bit of fun! The pin and cotton on the windows, tying the door handles and the various boyish tricks. When I was working for Rydal Hall, they had a game store where some grouse and pheasants were hanging and they were smelling very high, so I took it upon myself to remove and bury them. A few days later the kitchen staff enquired after the birds, so I had to dig them up and pluck them for the table!
The rubblsh was collected by horse and cart from Hart Head Farm and taken to Newton's Quarry and dumped. Trees which were felled by the wood merchants were taken away to the sawmills by horses, three pairs as a rule, pulling a special wood wagon. In winter time horse drawn snow ploughs tried to keep the roads free from snow. I remember in the autumn of 1925 going to Rydal church evening service, It had just started snowing when we went in and before we came out we could hear the branches cracking with the weight of snow. My father and us lads were up half the night sawing up the trees that had blocked the main road (hand saw in those days).
The lake froze one winter for eight weeks. I cut a block out of the middle with a hand saw, It measured 15 ins thick, the ice tester was Jack Huddleston. When the ice was bearable Jack would put on his old-fashioned wooden skates (steel skates were just entering the market) and skate as fast as he could. Sometimes his skate would cut through the ice but Jack was gone by. When the car had taken over, at a weekend two to three thousand people were skating on the lake, people from the Lancashire towns (no skating rinks on those days). The estate supplied a man with ropes and a ladder in case the ice broke. Hot coffee and sandwiches were sold by Mike O'Brien.
The post was delivered by a postman on a bike. A letter posted in London one day was delivered first post the next morning - without fail. The villagers could put a parcel in the 'parcel box' at the bottom of the hill, with money for the stamp and it was never stolen.
Babies were nearly always born in their own homes. There was always someone in the village who acted as midwife. Mostly things turned out alright. Doctors in the early 1900s had to be paid for per visit; and as some people were poor or wages were low, people had to be quite ill before they would call him out. The doctors' transport was a pony and trap or a bike. My brother wanted an aching tooth drawn, the dentist cost 1/6. cocaine 1/6, without he paid 1/-.
The roads were very narrow and when the motor was putting in an increasing appearance, the roads were too narrow for them to pass so there was no room for walkers. They widened the roads and added footpaths in the early 1900's. When the roads were repaired, they laid broken stones, which were broken bv a man usually ln a lay-by with a hammer, then mixed with soil and water and rolled on by an 11-ton steam roller until level. In fine weather the dust used to fly!
In the middle of the '30's when the country was in the midst of a slump, I left Rydal to work in London. Then I married and after active service in Normandy to Hamburg, my family returned to Rydal in 1944. After my demob In 1945 we settled down again in Rydal, a great deal of change had taken place. Rydal Hall, which had been taken over by Huyton Hill College Liverpool during the war. became vacant and the Le Flemings took charge again. Michael had married a divorcee but didn't settle for long. Joan had married a divorcee during the war and was later divorced. Diana married a man, then they divorced and then married him again. About this time the Le Flemings were to lease the Hall, which had gone into disrepalr after the college's occupation and long spells of emptiness, and quite a lot of valuables were stored in the laundry. One weekend thieves took away a collection of priceless crockery; the collection was never recovered. Period dresses, suits of armour and some quite rare books were sold at Christies and other items went to the London Museums. Some furniture and the stage coach were also sold.
The Hall stood empty for quite a long time then It was rented by Mr. Holliday who adapted it into an hotel. Now it has been bought and used as a Conference House by the Diocese of Carlisle. Most of the houses In Rydal have new tenants, some have been made into holiday homes. From 1980 to 1988 almost the whole of the village has new tenants.
More and more visitors come to stay in Rydal now, in the busy times 300 to 400 scouts camped in Rydal Hall grounds and 50 or more residents in Rydal Hall, and Glen Rothay Hotel, Rydal Lodge, Rydal Holme and Nab Cottage all take visitors as well as the holiday homes. The lake, once private, now everybody drops a boat on it and is enjoyed very much, especially by the scouts with their canoes.
I hope, someone 80 years or so, maybe In the year 2000 will continue to recall the changes that will take place in this beautiful village of Rydal, where I have enjoyed living from 1918 to 1930 and then returned from 1945 to 1986. I now live in a bungalow in Dalton in Furness and enjoy a different way of life. Luckily we enjoy good heath and are able to go walking.
Naturally we miss Rydal, but life has still to be lived, wherever.