When Fred Yates met Emily she was supporting herself and her ten year old son from her first marriage by teaching, mainly music,in a small San Francisco school. Emily was an accomplished pianist and she and Fred shared a love of music and the arts. Their characters complimented one another, Fred out-going and exuberant, Emily strong and self-reliant. They were married on the 31st December 1887. 
In 1890 Fred and Emily moved to England. They rented a cottage in Chislehurst, Kent, and it was here that their only daughter Mary was born on the 15th November 1891. After the birth of Mary the family embarked on a series of trips overseas including a short stay in Hawaii and 16 months in Japan. 
In 1899 they returned to London and established a pattern of mutual co-operation which would continue throughout their lives. Fred sought portrait commissions while Emily, and later Mary, entertained the sitters while Fred painted.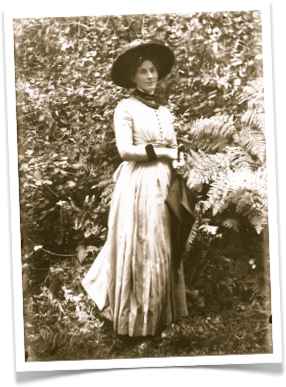 Emily Powers Chapman
 in La Jolla, California
before her marriage 
to Fred Yates.
Emily was happy to entertain visitors within her own home but she was less comfortable at large social gatherings.
In a letter to a friend she wrote, "All this social work tires one to death when there's as much of it all at once and I feel like burying my head in a pillow and speaking to no one till the social smile gets rested"
In later years, when the family settled in the Lake District, Emily chose to stay at home rather than accompany Fred to his London studio or to the homes of those he painted. 
She was content to entertain the friends who came to stay with them in the Lakes and enjoyed the company of a wide circle of local friends. She resumed her music teaching and developed a close friendship with fellow music lovers, Mr and Mrs Willinck.
She was Nicknamed 'Spite' by Fred, who would anxiously ask, "Does she still love me in spite of…?" It is clear that whatever Fred had done the answer would always be "Yes!".
From notes for an the Exhibition at the Armitt Museum, Ambleside, November 2001 to February 2002. John Hodkinson, Hart Head Cottage, September, 2001.