Like other artists at the turn of the century, Fred admired the Japanese art that was coming to Europe and was therefore pleased to be commissioned to do portraits of members of the British Embassy in Tokyo. The intrepid family sailed to Japan taking the opportunity to go via San Francisco to re-visit artist friends and where Mary met her grandparents and other relatives. In a letter to a friend in March 1898 Emily describes the journey, "How surprised you will be to hear we are in Japan! We have meditated it for a year and finally sailed January 6th- A terrifying voyage of constant storm, but terra firma at last and such thankful hearts"
Throughout the tour the family were supported with money Fred earned by painting portraits. One of the diplomats in Tokyo was Sir Ernest Satow who became a lifelong friend and described Fred as,"…a charming companion, full of fine thoughts and witty sayings"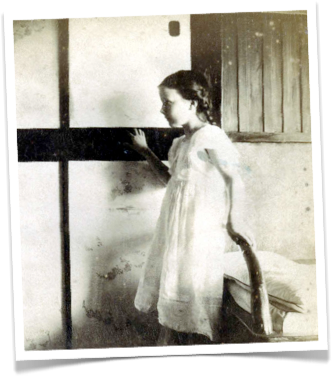 Mary at Koshiba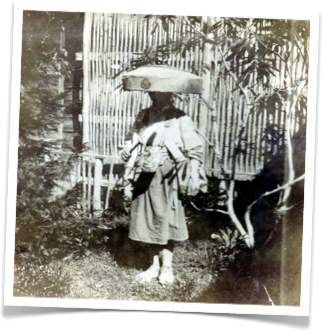 Fred equally enjoyed sketching villagers and rural scenes as Millet had done and Emily was thrilled to use her first camera. The photograph albums and sketchbooks from this journey not only show a family in the midst of a great adventure but also reveal their deep awareness of the beauty of the landscape, the character of the people and a joy for recording all that they saw and felt.
An itinerant musician at Nikko, Japan
From notes for an the Exhibition at the Armitt Museum, Ambleside, November 2001 to February 2002. John Hodkinson, Hart Head Cottage, September, 2001.