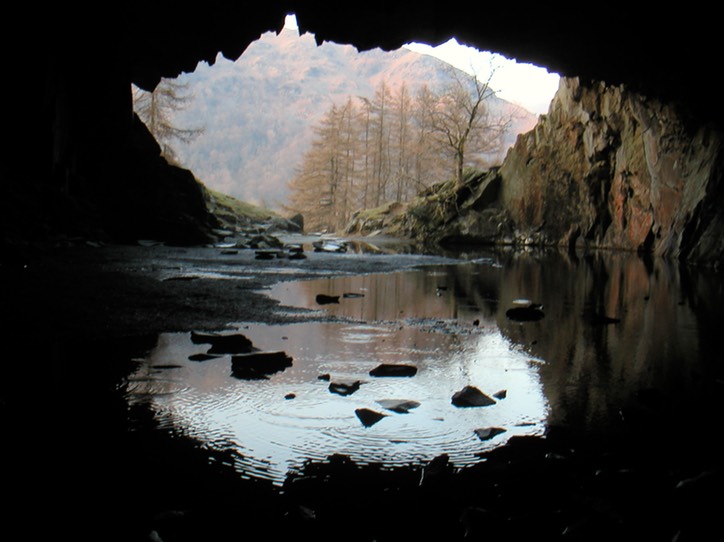 There is still evidence of mining, slate & stone quarrying. Rydal Caves is a former quarry, worked to provide stone for the building of Steps End & Cote How Cottages.
Power was available from the many becks & this was harnessed from the medieval period until the 19th century for corn grinding, bark crushing (for the tanning process),wooden bobbin production  & both linen & woollen manufacture. Evidence of both woollen & cloth manufacturing can be found in the surrounding area and the remains of retting ponds for soaking flax in preparation for the cloth making process can be seen in Rydal Park.
The remains of a potash kiln can be seen in Fox Ghyll wood. 
The course of the aqueduct, built to carry water from Thirlemere to Manchester, can be traced through gates & structures built by the Manchester Corporation at the end of the 19th century.
Throughout the centuries farming has been the mainstay of the valley. Agro pastoral farming, using fell pastures and common land to graze the *hefted flocks of Hardwick sheep, has been practiced over the years.  *Hefting is the traditional method in which sheep keep to a certain 'heft' (small local area) throughout their lives and this allows a number of farmers to graze areas of open fell without need of fencing. Lambs usually learn their heft from their mother.
The name Fairfield implies that early Norse settlers grazed their sheep here on the high fells in summer.
The surviving local farm buildings, constructed from local stone, date from  between the 17th and 19th centuries. 
The Rydal Hall barns and Rydal Farm barns date from the late 17th century.