The Deer Park was established in the thirteenth century to provide sport (and food) for the Norman rulers of the area. This part of the valley was developed by Roger de Lancaster for that purpose.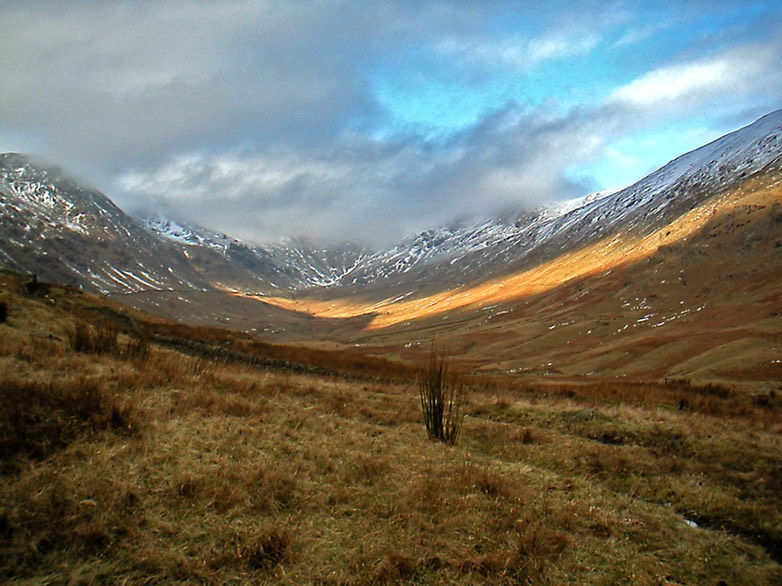 In 1277 a  dispute developed between William de Lyndseye & Roger de Lancaster and this resulted in fines being levied on any animals caught straying into the Park. Each ox, cow, pig or mare carried a fine of half an old penny per animal and groups of five sheep were also fined at this rate.
Five goats were fined at the higher rate of one 1d (one old penny) probably because goats are capable of creating more damage…
In the past the Park was far more densely afforested than it is today and to limit incursions by stock into the Deer Park William de Lyndseye agreed to build a barrier from Rydal Beck and Scandal to Low Pike (height 1700ft approx.)
Roger de Lancaster created a similar boundary along the spur that divides Rydal Beck from Grasmere and this work was carried out in the summer of 1277 between May and September.
When climbing Nab Scar to walk the Fairfield Horseshoe traces can still be seen of this barrier at around 200ft in a line of gale-flattened stone that snakes across the landscape. Parts of this wall have been dated to between 1565 and 1581.
The 1787 Clarke map  shows a land holding bounded by a sub-circular enclosure adjacent to Rydal Old Hall. 
The northern end of the Deer Park was situated at the head of the valley, the southern end around the Hall. This southern end was later (in the second half of the 17th century) developed as parkland. It is thought that the Old Hall may have originally been a hunting lodge for the deer park.
Echoes of the Deer Park are still to be found in the place names:
Little Hart Crag, Hart Head Farm, Hart Head Cottage and Buckstones Jum all reflect the past use of this land as does the track over from Brothers Water to Scandal, still known locally as the Hunter's Path, originally used by Sir William and his successors when travelling over the fell to hunt in Rydal.